If there's one thing guaranteed to spark the excitement of any adventurer, it's a map. From the inside covers of fantasy books to the map screens of video games, maps are visual gateways into fantastic worlds. The same goes for the tabletop. As a Game Master, there's no better way to capture the imagination of your players than with maps of your world, dungeons, and battlefields.
So, what's the best map-making software out there? There are plenty of options to help first-time cartographers make beautiful maps. Let this article be your map through the wilds of the Internet to find the best software for your worldbuilding needs.
Table of Contents
Map-making software for fantasy worlds
The world map is the first impression most players will have of your campaign. A good world map will not only give them the lay of the land but also entice them with the promise of adventure over the next hill. These four programs are best suited for bringing your world to life.
In this section:
Inkarnate
Inkarnate Pros
Easy to use and free to try
Frequent updates and support
Inkarnate Cons
Limited selection of assets and tools
Lack of options for detailed maps
How much does Inkarnate cost?
Free to try, subscription $5/month, $25/year
Website: inkarnate.com
Inkarnate Platforms: Web
---
Since 2013, Inkarnate has been the go-to map maker for writers, worldbuilders, and game masters of all kinds. Its user interface will be familiar to anyone who has used image editors like Paint or Photoshop, and it's simple to learn for those who haven't. The brushes and art assets are all high quality even at the free tier, making the simplest maps look stunning.
Because of its long history, a strong community has built up around the platform. Inkarnate's official Twitch channel hosts weekly developer streams where they highlight new updates and ways to use the program. There are also active communities on Discord and Reddit with people sharing their work and asking for help.
With that said, Inkarnate has its limitations. The Pro subscription unlocks a lot of art assets and map slots that aren't needed for most GMs. The lack of a snap-to-grid function for placing items makes building city maps or interiors a lot more difficult than making region or world maps.
The best part of the Pro subscription is that it unlocks the ability to clone and edit maps published by the community. It's a huge time saver for anyone trying to balance game night duties and real-world responsibilities.
Inkarnate has stuck around for a reason. It's beginner-friendly and offers a lot, even without the Pro subscription.
Wonderdraft
Wonderdraft Pros
Detailed, high-quality maps
Compatible with pen tablets like Wacom
Advanced tools for map design
Wonderdraft Cons
Moderate learning curve
Inactive community and lack of support
How much does Wonderdraft Cost?
$19.99 one-time payment, $10 per additional asset pack
Website: wonderdraft.net
Platforms: Windows, Linux, MacOS
---
Developer Megasploot has taken the concept of Inkarnate and run with it, making two great platforms. Wonderdraft is the more organic software, focusing on making high-quality maps of your whole world. Or plane. Or wherever it is you're actually exploring.
Wonderdraft takes the basics of a map-maker and expands on them with new tools for more experienced cartographers. The landmass generator is a great place to start mapping out your homebrew setting. The ability to set a custom grid size is perfect for setting scale, an important element in determining a story's scope. If you're artistic, you'll be happy to know that Wonderdraft is compatible with Surface Pro and Wacom products. This allows for far more artistic finesse than a mouse or trackpad.
Note that there is less of a community around Wonderdraft and fewer available tutorials, so if you get stuck, you might be out of luck.
If you've been around the map-making table before and are looking for an upgrade, Wonderdraft is a great option to level up your skills.
Campaign Cartographer 3+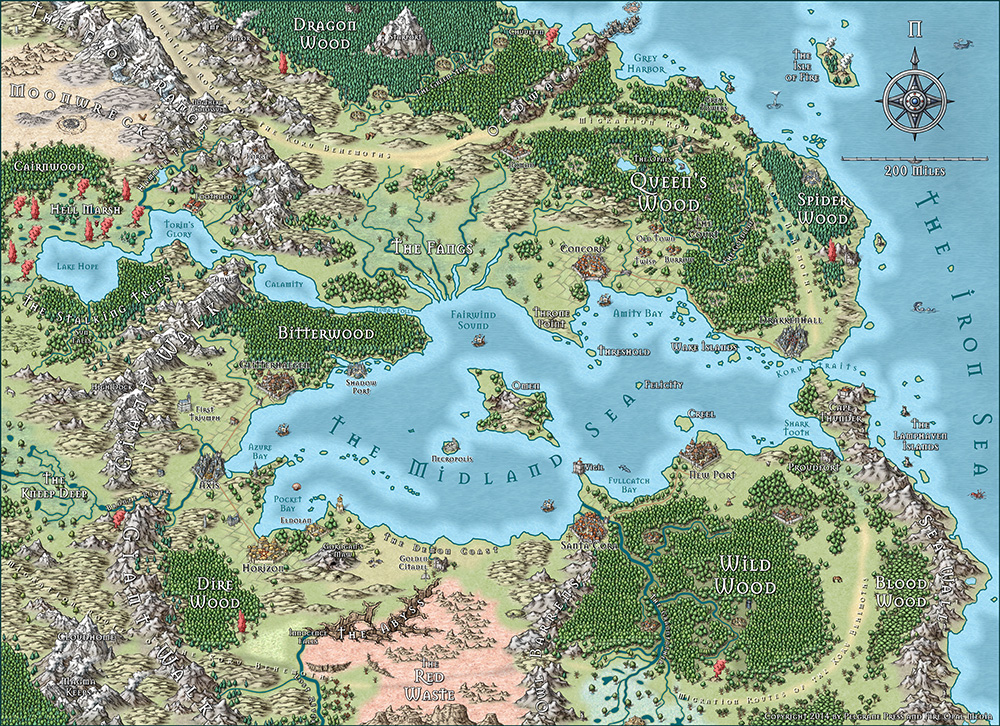 Campaign Cartographer 3+ Pros
Active community
Frequent updates and support
Highly detailed, complex, and customizable maps
Campaign Cartographer 3+ Cons
Outdated and complicated UI
Steep learning curve
No options for city, dungeon, or battle maps
How much does Campaign Cartographer 3+ Cost?
One-time payment of $44.95
Website: profantasy.com/products/cc3.asp
Platforms: Windows
---
If Inkarnate is the mother of most modern map-makers, then Campaign Cartographer is the grandmother. The original version of Campaign Cartographer came out in 1993, back in the days of THAC0 and TMNT. Campaign Cartographer 3+ is the most current version of the software, bringing with it thirty years of updates and community engagement.
Older doesn't always mean better. CC3+ has a noticeably outdated interface and is less intuitive compared to the other tools available. The extensive video tutorials are required watching to get a feel for all the program can do. It is strictly for making world and region maps. The company, ProFantasy, makes other programs that specialize in city and dungeon mapping.
CC3+ is the most expensive, one-time payment mapmaker out there and it requires a lot of time to see its full potential. Still, if you're an old-school gamer with some disposable income looking for that retro gaming feel, it's a robust platform with a lot of neat tricks.
Azgaar's Fantasy Map Generator
Azgaar's Fantasy Map Generator Pros
Great tool for brainstorming and ideation
Quick map generation for on-the-fly design
Very easy to get started and use
Azgaar's Fantasy Map Generator Cons
Poor performance
Random generation means limited control and customization
How much does Azgaar's Fantasy Map Generator Cost?
Free, with a selection of free and paid assets
Website: azgaar.github.io/Fantasy-Map-Generator/
Platforms: Web
---
Azgaar's Fantasy Map Generator is a valuable tool for GMs starting their own homebrew setting. It is not a conventional map-maker like the previous programs. As the name suggests, Azgaar's randomly generates maps. Not only do you get landmasses and countries, you get a ton of other details as well: from biomes and landscapes to religions and armies. The maps look great, and they provide all the tools needed to get started filling in the blanks. What's more, Azgaar's generates maps for all the cities in your world with Watabou's Medieval Fantasy City Generator. Both Azgaar's and Watabou's generators offer deep customization settings for advanced users.
Anyone who wants to get super detailed about their world will want more control over the shape and scale of their map - something Azgaar's doesn't offer. It's also notorious for running slow, even on quality computers.
Azgaar's generator is a great tool to use when starting out, or seeking inspiration for your new map.
Map-making software for D&D maps and Battle maps
While a world map is great for setting the stage, your game doesn't actually run at a world scale. From the tavern where your players meet, to the castle lair of the final villain: you need a battle map to convey all the epic moves and silly shenanigans your players get into. The following programs offer you many different ways to illustrate the spaces for great combat and roleplay.
In this section:
DUNGEONFOG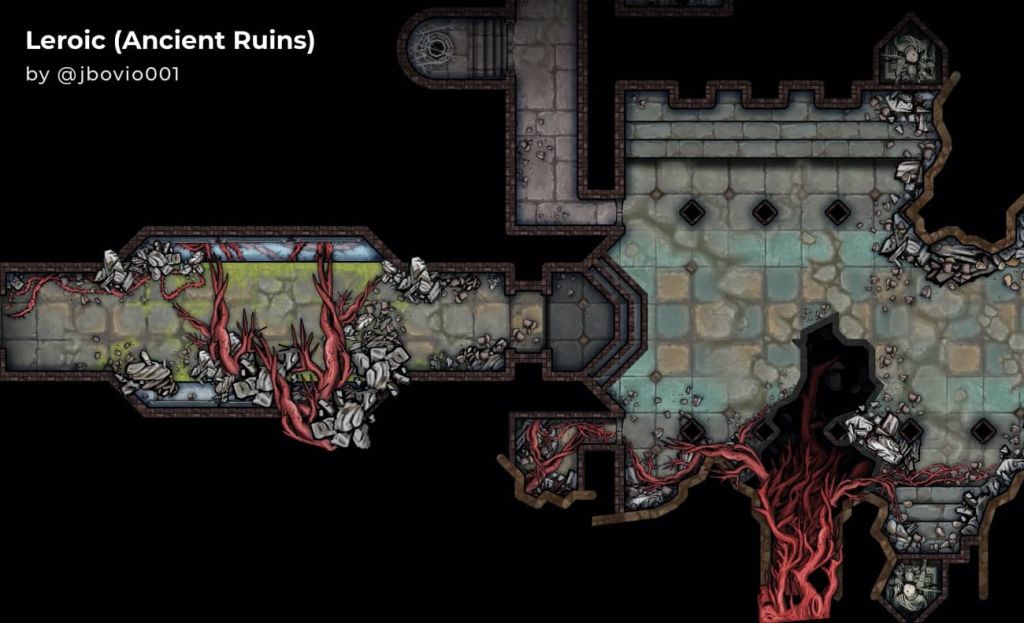 DUNGEONFOG Pros
Broad selection of high-quality assets
Active online community with free map sharing
Frequent support and comprehensive tutorials
DUNGEONFOG Cons
Limited map slots for free and paid users
Limited to small-scale scenario maps
How much does DUNGEONFOG Cost?
Free to try, with additional map slots available for $3 each and a subscription plan at $5/month or $50/year.
Website: dungeonfog.com
Platforms: Web
---
Made by game masters, for game masters, DUNGEONFOG bills itself as a tool to create "mesmerizing battle maps with ease." DUNGEONFOG is best described as Inkarnate for battlemaps: beautiful art assets, a robust online community, solid tutorials, and updates from the team–all in a system better suited for making interiors and dungeons than continents.
One great feature of DUNGEONFOG is the free map cloning. Even free users can find maps uploaded by community members and use them as the basis for their own maps. It's a great timesaver for busy GMs. DUNGEONFOG also has a neat system that creates note files like you'd find in a published module from your custom maps.
To make the most of what DUNGEONFOG has to offer, you'll have to fork up some cash. Unlocking more assets and editing features is standard for subscription-based map makers, but DUNGEONFOG takes it a step further by limiting free users to only three map slots. As a free user, you can buy extra map slots up to a limit of 12, while subscribers enjoy an unlimited reserve. Unless you can limit your maps, you will likely have to work another subscription service into your monthly budget.
Dungeondraft

Dungeondraft Pros
Easy to learn
Unique features
Compatible with many online hosts and virtual tabletops
Dungeondraft Cons
Difficult to edit or revise maps
Smaller community, hard to find tutorials/support
How much does Dungeondraft Cost?
One-time payment of $30
Website: dungeondraft.net
Platforms: Windows, Mac, Ubuntu
---
Dungeondraft is Wonderdraft's battle map companion. Made by the same developers, it has all the pros and cons of its world mapping sister. The editor is easy to learn and has a lot of features less common in other dungeon mappers, such as irregular shapes and tweakable map generators. The pathing and fill tools will take your maps to professional quality in a snap. The tag system for assets makes finding the perfect chair or table a breeze. It integrates well with online game hosts like Roll20 and Arkenforge, so you can get the maps into your game without much hassle.
Unfortunately, it shares many of the drawbacks of Wonderdraft. On the plus side, because Dungeondraft's assets are from third parties, some are free and some are pay-what-you-want, so the cost can be a little lower.
Dungeondraft stands so far ahead of other dungeon makers out there that it's a good investment if you're starting to get serious as a game master.
Dungeon Scrawl
Dungeon Scrawl Pros
Streamlined and easy to understand
Compatible with many online hosts and virtual tabletops
Dungeon Scrawl Cons
Limited in scope and complexity
Limited selection of art assets
How much does Dungeon Scrawl Cost?
Free!
Website: dungeonscrawl.com
Platforms: Web
---
Let's say you want a quick dungeon map without any of the frills. A simple, clear map that shows your players where the traps, loot, and monsters are. Well, Dungeon Scrawl has you covered.
Developed by ProbableTrain, this easy-to-use program creates old-school maps in minutes. It can make one-room caves, tavern interiors, and sprawling mazes with a few clicks. Plus, it can import data from the dungeon generators over at Donjon, one of the best sites for tabletop generators. It even includes it's own maze generation function if you want the map to draw itself.
While Dungeon Scrawl is great for a basic dungeon, it's less successful at making elaborate building interiors. The art assets (courtesy of the folks over at 2 Minute Tabletop) are decent, but only cover the basics of taverns and houses. If you like that art style, there are plenty of battle maps available to download for under $1 that are better than what you can make using the Dungeon Scrawl assets.
If all you need is a dungeon mapper to get your players from point A to monster B, Dungeon Scrawl is a solid choice.
RPG Map Editor 2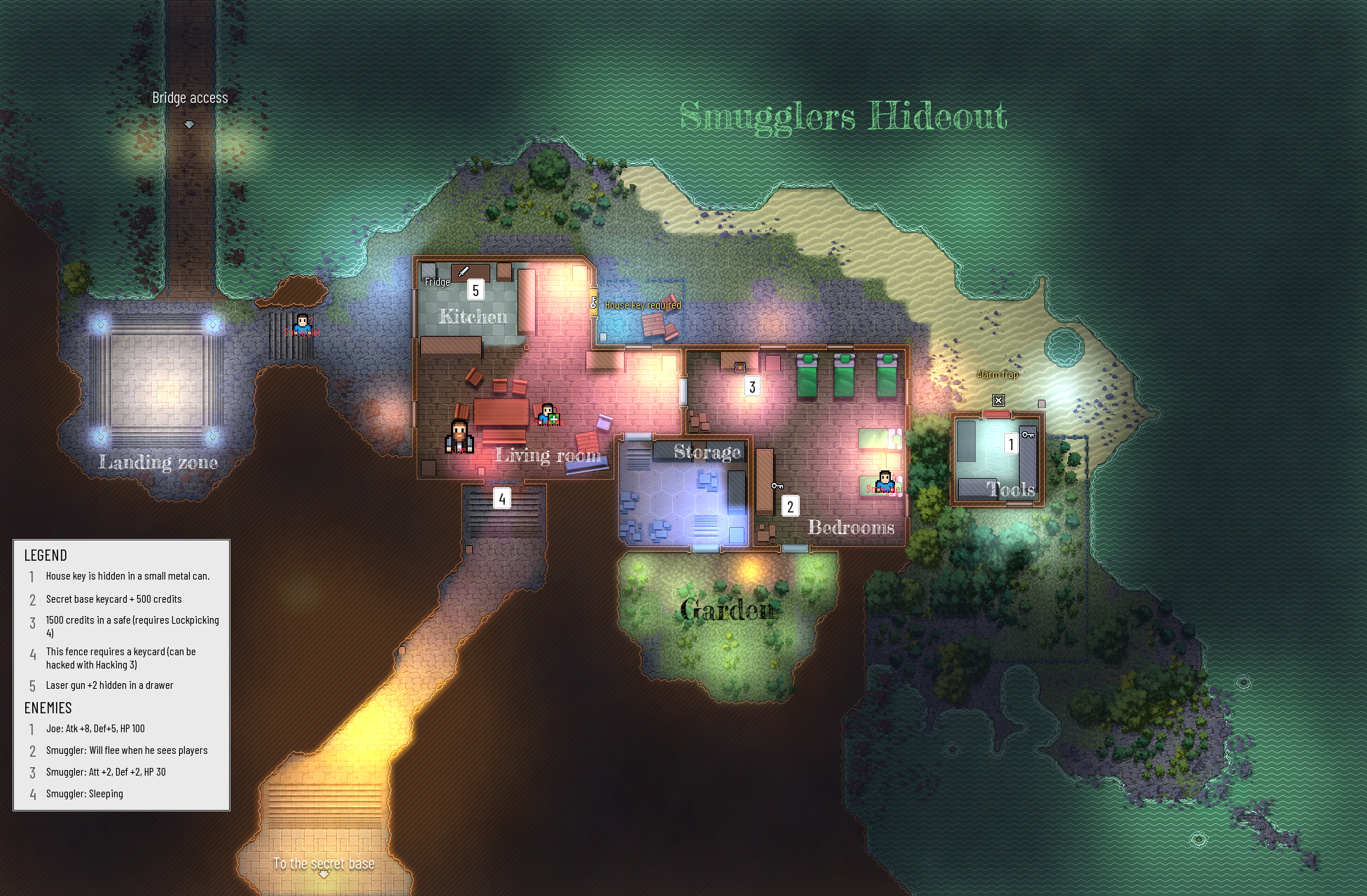 RPG Map Editor 2 Pros
Unique retro art style
Easy to learn
Compatible with many online hosts and VTT's
RPG Map Editor 2 Cons
Fixed artstyle and limited asset pool
Limited in scope and complexity
How much does RPG Map Editor 2 Cost?
Free!
Website: deepnight.net/tools/rpg-map/
Platforms: Web, Windows
---
Despite its generic name, Deepnight Games' RPG Map Editor 2 is anything but. It's a free, easy-to-learn dungeon mapper compatible with online hosts like Roll20. What sets it apart from other dungeon mappers out there is it's aesthetic. Modeled after retro pixel art games like Dragon Quest and Final Fantasy, it infuses every map with a fun and nostalgic energy. It's like seeing your favorite old-school video game come to life.
Of course, that's not the vibe for everyone. Besides altering colors and textures, there's no way to change that look. It also has a small pool of art assets, which are mostly just a few generic boxes and trees. The custom asset option helps, and offers a lot of freedom and customization, but it's pretty much mandatory if you want to make complex interiors.
If the retro look fits with your mapping goals, you'll find this editor surprisingly deep and able to make everything you need with a little finesse.
TaleSpire

Talespire Pros
Very active and current dev support
Consistent rollout of new features
Unique, immersive 3D experience
Talespire Cons
Constant state of flux and bugs due to early access
Complicated and time-consuming
How much does Talespire Cost?
$24.99 per copy. Every participant must purchase a copy.
Website: talespire.com
Platforms: Windows
---
Talespire is an early-access Steam game developed by Bouncyrock Studios. It seeks to break new ground in the field of virtual tabletops. Maps and assets are rendered in a 3D space shared in real-time between the players and game master. The map creator constructs interactive terrain with a vast selection of free, modular assets. Talespire recently partnered with Heroforge, allowing users to import their custom miniature models.
Talespire has a thriving community of creators. You can download community maps for free and import them into your sessions. Thanks to its 3D nature, Talespire's options for complexity and immersion are on another level. That said, a Talespire map can take a long time to build. Users have to contend with a cluttered UI and occasional performance slumps. The pricing model will turn off many game masters: every player must buy a copy of the game to join a session.
Despite its limitations, Talespire offers an engaging experience that will become more refined as they move towards a full release.
BattleMapp

IMAGE
BattleMapp Pros
Very quick and easy to learn and use
Browser-hosted, easy to share
Unique, appealing style
BattleMapp Cons
Small community and single developer, support and change can be slow
Limited to a single instance and fixed size
How much does BattleMapp Cost?
Free, with premium subscription options of $5 - $15/month through Patreon
Website: battlemapp.io
Platforms: Web
---
BattleMapp.io is a browser-hosted 3D map editor that is currently in open beta. It's maintained by a single developer with a simple goal: give game masters a tool to create maps and run games in a personalized virtual tabletop. The service is exactly what it says on the tin - go to the site and you'll arrive at an immersive 3D tabletop with a plethora of tools to add and edit assets. There is a standalone version of BattleMapp available to tier 3 Patreon subscribers with an expanded set of features, but the focus of development is the free in-browser version.
BattleMapp is a simple and elegant service that delivers on its promises. That said, it is missing some advanced features. There is one play area with a fixed size, and limited options for uploading custom assets. It is a one-man operation so support can be slow. To his credit, the developer appears dedicated and consistently adds new features.
For those looking for a quick, easy, and visually appealing way of creating 3D battle maps, BattleMapp delivers.
What is the best fantasy map-making software in 2022?

Ultimately, the best map-maker for you is the one you feel most comfortable with. That could be any software, good old pen & paper, or theater of the mind.
If you're starting your first homebrew setting and want to try some software, I recommend Inkarnate for your world and region maps and Dungeon Scrawl for your interiors. After a little practice, you might want to upgrade to Dungeon Draft to make the battle maps shine.
Whatever tool you decide on, be sure to consider how it works to help you tell the story of your world. Succeed in that and you'll make moments that your players will talk about for years to come.
Organize, annotate, and explore your maps with LegendKeeper
LegendKeeper is the collaborative worldbuilding app designed for map lovers.
After you create some maps of your own, LegendKeeper will help you organize those maps and connect them with your stories.
Drop colorful pins on your map to add notes and connect to rich wiki pages describing your world.
Connect maps to other maps with an intuitive, drag and drop navigator. Dive from continent, to region, to town, to dungeon.
Find information quickly with flyout menus, pin navigation, quick creation commands, and full-text search.
Don't suffer from ugly, low-resolution map restrictions. LegendKeeper supports 14,000 pixel images so the maps look incredible at any zoom level.
Try LegendKeeper today for free. New projects come with sample maps by skilled cartographers so you can see how it works in less than 2 minutes.